Majority of new technology investments in UAE will be on data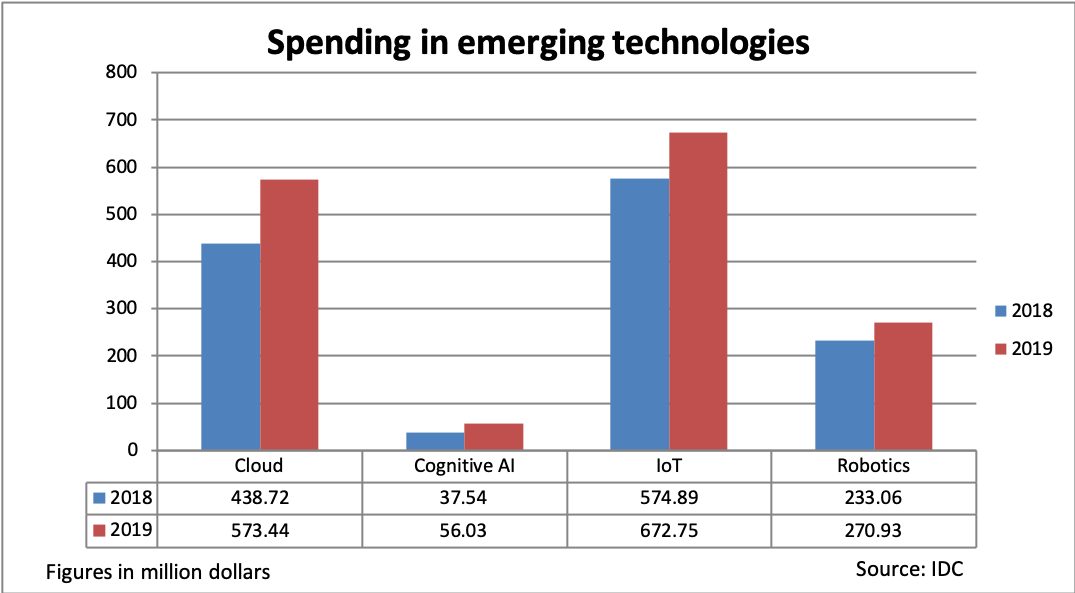 Enterprises in the UAE are rushing to digitally transform themselves in a bid to be operationally efficient, more agile, create new experiences for customers and create new revenue streams.
About one-third of the spending in the third-platform technologies [social media, mobile, cloud, big data and analytics, and internet of things] in the UAE today is driven by digital transformation of projects, said Jyoti Lalchandani, vice-president and regional managing director for research firm International Data Corporation (IDC), to TechRadar Middle East.
"Some of the traditional IT areas such as devices and infrastructure is slowing down and companies are using investment to drive adoption of more disruptive technologies such as artificial intelligence, robotic process automation, internet of things, big data analytics, blockchain and cloud to cut costs and drive more efficiency."
Lalchandani said that a lot of the investments the companies were making were around dashboards and helping sales and marketing teams.
Data is the new oil
"We are seeing big data investments to drive new revenue streams. There is a lot of focus on mining data and organizations are looking at monetizing that data."
He sees the opportunities for data-driven business models in the quality of the data and interlocking of the data.
"Data is the new oil. If organizations can extract the real value from structured and unstructured data [along with] data coming from various other sources such as IoT devices and AI-based feeds and make sense of it, to identify and sense opportunities to drive the business. We believe that about 70% of the new technology investments will be on data," he said. Prominent use cases are in the retail, public sector, transportation and utilities but he sees a scarcity in the right skills resources for this.
Artificial intelligence
In the Mideast and Africa, the AI investment is expected to be $263 million this year compared to $200 million last year. This investment is expected to grow between 25% and 30% annually.
At least a quarter of the investment is coming from the UAE, Lalchandani said.
The AI investment in the UAE is expected to be $56.03 million this year compared to $37.54 million last year, registering a growth of more than 49%.
The use cases are in utilities, banks, fraud analysis, automated threat intelligence, Dubai Department of Economic Development, land department, transportation and public sectors.
Moreover, he said that there are some interesting pilots taking place in the healthcare sector.
He believes that AI will be one of the most disruptive technologies in a wide range of sectors such as banks, retail, public sector, utilities and healthcare, etc.
In the next three to four years, as [AI] technology evolves, he said that there is going to be a lot more pressure on the governance, public and private sectors to set up rules and compliance around the use of data and AI.
"Great as a technology, there is a very thin line between ethics versus leveraging this disruptive technology. We think that there is going to be more oversight and regulation but unfortunately, this technology is moving faster than the regulatory and compliance agencies can keep track with," he said.
By 2022, IDC expects about 65% of the organizations going to ask the chief information officers to modernize and transform the AI-related policies.
Internet of Things
The IoT investment in the UAE is expected to grow by 17% to $672.75 million compared to $574.89 million a year ago.
The use cases are in transportation, smart grids, airlines, police using smart cameras, freight monitoring, production management, manufacturing operations, connected oil exploration, digital signage, and smart home and wellness sectors.
With the introduction of 5G cellular network, more connected devices are expected to be connected to the network.
Blockchain
IDC saw a big uptake of blockchain initially in areas like banking and financial services, trade financing, etc. In the last few years, Lalchandani said that adoption of blockchain by public sectors is gaining more traction and has seen use cases in education, property and utility sectors.
"What we are seeing is a high-value and low-volume transactions but in the next few years, we will see blockchain technology embedded into the computing. There will be some sectors which will leverage the blockchain technology as early adopters. The movement the public sector gets into the blockchain, it will force a lot of private sectors to follow. The paperless strategy by Dubai is going to force everybody to adopt blockchain," he said.
IDC sees a 110.9% growth in blockchain spending in the Middle East and Africa to $189.32 million compared to $89.77 million.
Source:: TechRadar Portable Devices