The best VR headset 2018: which headset offers the best bang for your buck?

The best VR headset is not an easy thing to pin down in 2018, especially with so many new VR headsets coming to the market – and great deals on high-end headsets appearing all the time.
Premium VR headsets for PC gaming are now much more affordable thanks to permanent price drops, which makes it even trickier to choose the best VR headset for you.
In addition price drops, more advanced VR headsets have come to the fore, like the HTC Vive Pro. Of course, on the flip side are the mobile headsets, namely the Samsung Gear VR and Google Daydream View.
Then there's the whole new category of standalone VR headsets, which sees the newly-launched Oculus Go leading the charge. We'll be looking out for more standalone VR headsets arriving over the coming months.
You can skip down below to see our choices and explanations in depth, but it's important to note that permanent price cuts have brought the so-called traditional VR headsets more closely in line with one another.
The four best on the market right now, the Oculus Rift, HTC Vive, HTC Vive Pro and PlayStation VR, are unsurprisingly also the most expensive of all the mainstream VR headset offerings.
Each headset has its own distinctive strengths and weaknesses, and if you're not aware of these before you buy, it could be a very costly mistake to make. But that's exactly why we put this guide together.
And, if you want less expensive fare, our guide also includes a few mobile VR headsets for your consideration.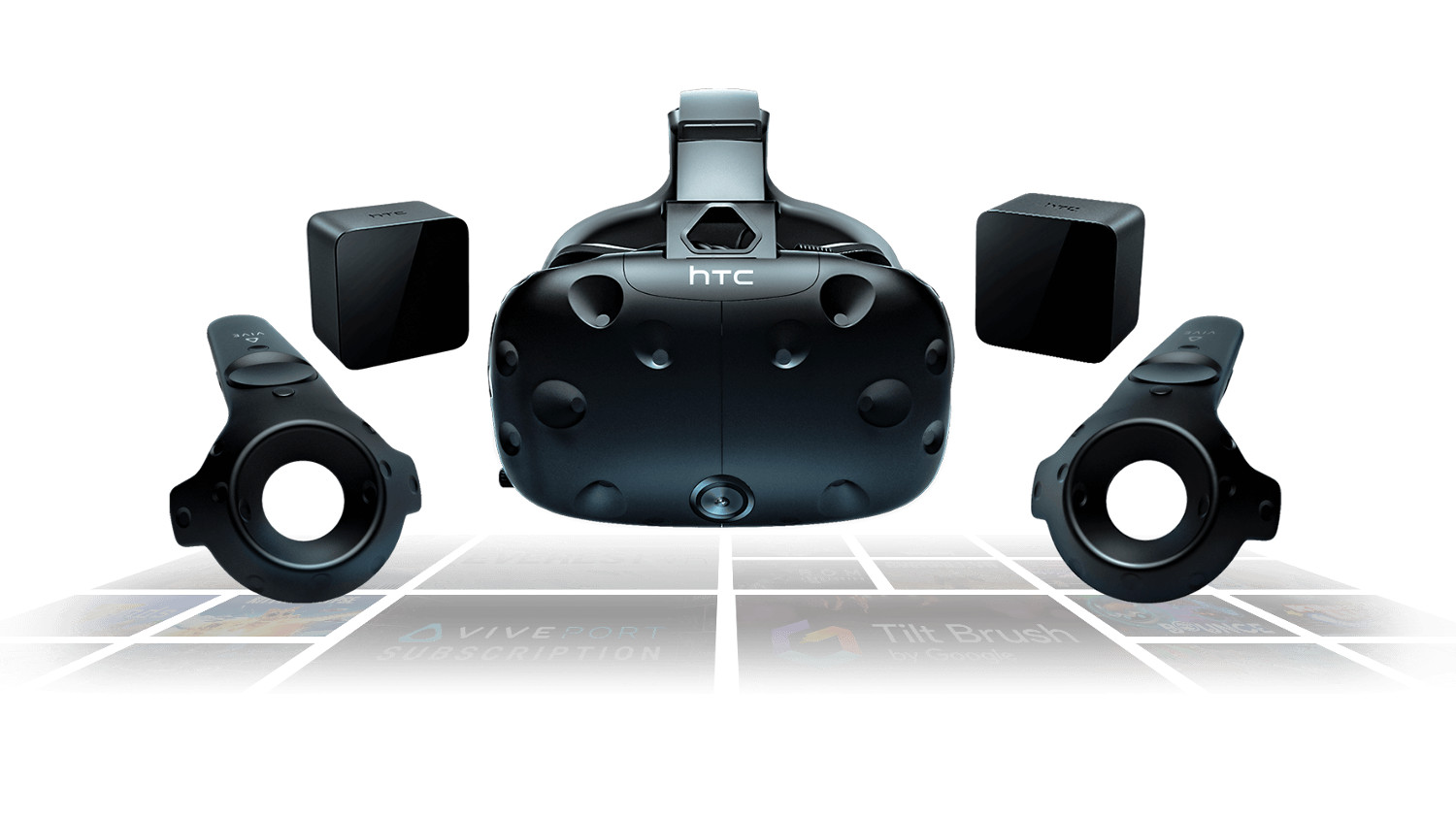 When it originally released, the HTC Vive was streets ahead of its nearest competitor, the Oculus Rift. It supported room-scale tracking out of the box, and came with two motion controllers that allowed it to offer a much more immersive experience.
Now, however, the gap has narrowed. Nowadays the Oculus Rift matches much of the Vive's functionality and includes two motion controllers of its own.
But the Vive still has the edge over the Oculus because, for our money, the room-scale tracking is that much better. The feature allows you to walk around a space that's 4.5 x 4.5m big, adding another dimension to the feeling of presence that you experience while using it; you're not just pressing up on an analogue stick, you're using your legs to walk.
That's if you have enough space in your real room, of course.
The headset itself contains two 1080p screens which makes for a very crisp image. Unfortunately it's not quite high-resolution enough to prevent you from being able to discern individual pixels when you wear it, and the HTC Vive Pro, with its 78% increase in dots per inch, offers a much sharper screen in addition to built-in audio, which the original Vive lacks.
However, despite not being the latest and greatest Vive, where the original HTC gains back points is in its price.
Though it's still more expensive than Oculus Rift, the HTC Vive Pro has a few shortcomings that don't quite justify its high price tag. For the regular user who doesn't have the funds to buy an HTC Vive Pro, the HTC Vive offers a still-excellent experience for less cost.
Read the full review: HTC Vive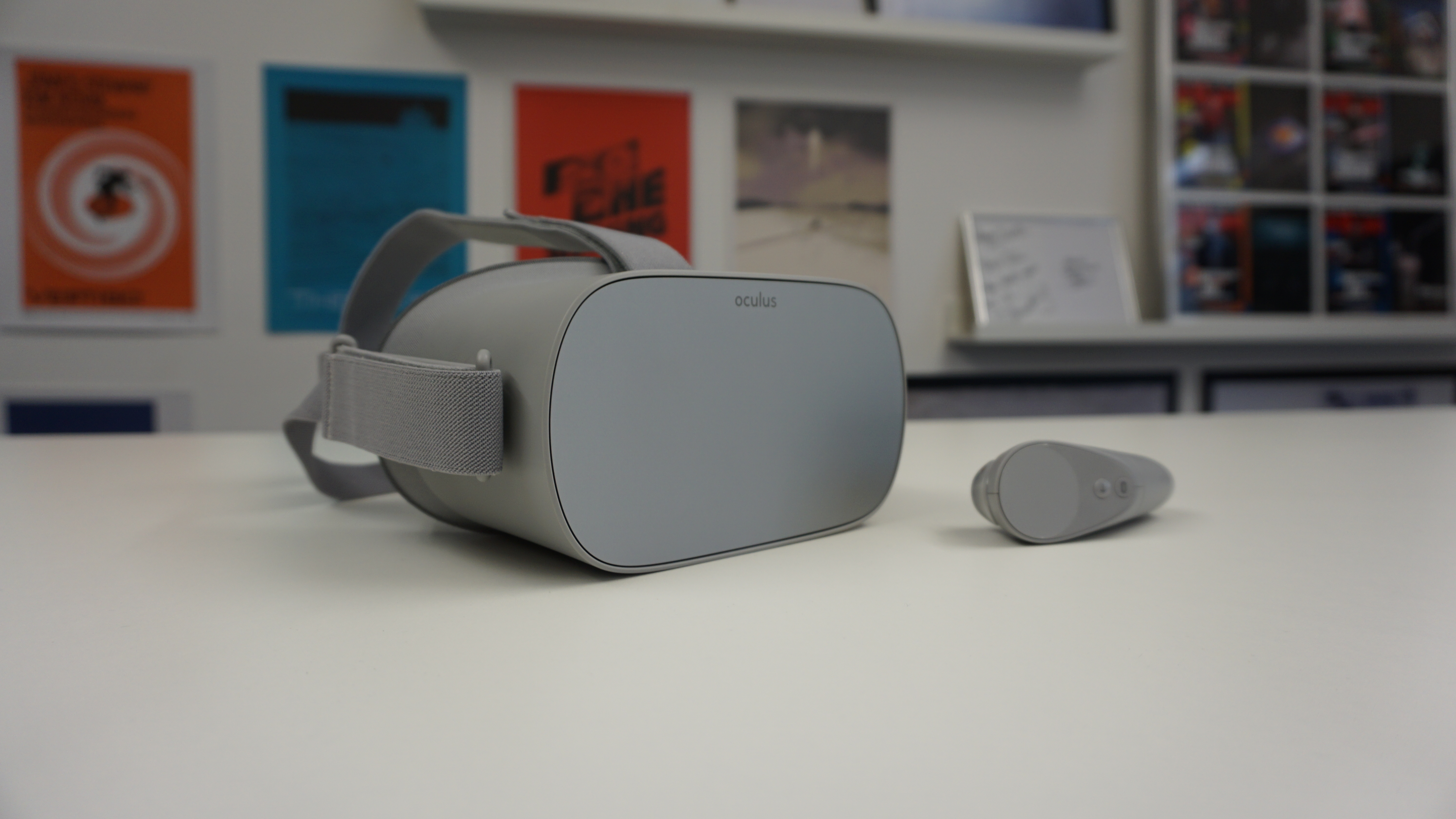 Simply put, Oculus Go signals a new era for virtual reality, one that doesn't require a smartphone or PC to run excellent experiences. But forget the grandiose statements – you want to know what it's actually like to use, right?
Oculus Go is a standalone headset that rivals Oculus Rift in more than just its affordable price; the quality of VR on offer is nearly as good as that of a tethered VR headset.
With impressive visuals, limited screen-door effect and a comfortable fit (one that's front-heavy, to be sure), you're in for loads of fun with the Oculus Go.
Its content library is already quite large with over 1,000 apps, games, movies and experiences available at launch, and that should only grow because the headset is compatibility with Samsung Gear VR content. The headset comes in two storage options, 32GB or 64GB, so you can take your pick for how much memory you'll need.
Oculus Go isn't perfect – in addition to sitting heavy on the face, light leaks through the bottom, right where your nose is, which could prove anywhere from mildly annoying to downright distracting to you.
What's more, its battery-life-to-charge-time ratio isn't ideal, but you still get around two hours of gaming on a full charge.
If you're looking for a fun, quick and easy way to get into virtual reality, Oculus Go is your best bet. The experience is better than mobile VR headsets that require a smartphone to use, while at the same time being more affordable than PC-powered headsets.
Read the full review: Oculus Go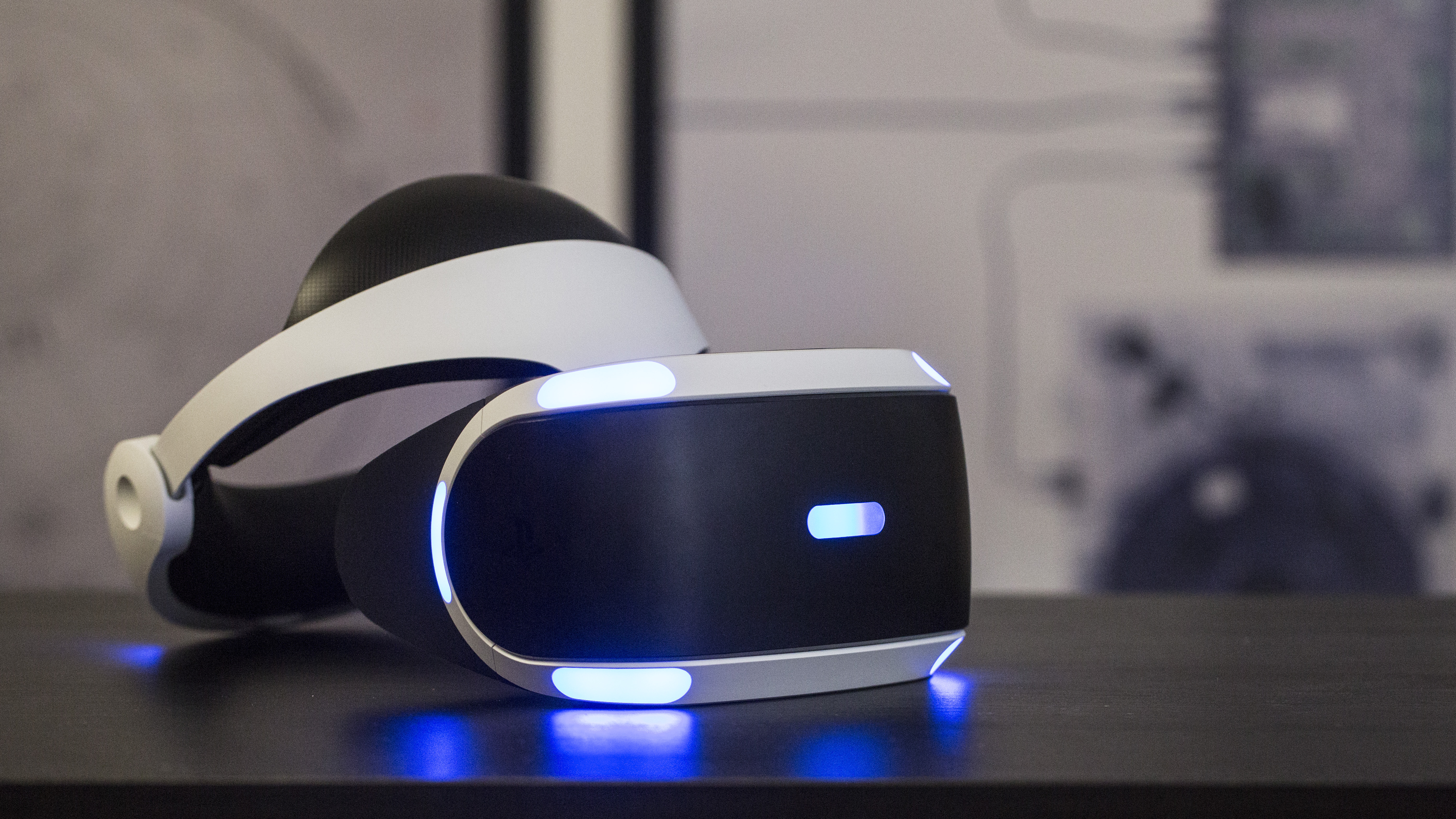 There's no getting around the fact that in order to run either the HTC Vive, HTC Vive Pro or the Oculus Rift you need a pretty substantial gaming PC, which is a hefty investment for most people.
That's not the case with Sony's PlayStation VR, which requires little more than a PS4 console to run.
Considering the huge difference in power between the PS4 and PC, the PlayStation VR is a surprisingly capable virtual reality headset. Its refresh rate is nice and responsive, and we've had no problems with the reliability of its head-tracking.
Thanks to Sony's backing, the selection of PlayStation VR games is also impressive. There were dozens available at launch, and many more have followed over its first year on sale.
Sony has addressed one of our biggest complaints with the PlayStation VR – that its accessories are sold separately – by offering a variety of packs and bundles with devices like the PlayStation Camera included. However, PlayStation Move controllers, while are included in some bundles, aren't in every one.
While you have to be wary of the additional charges involved, depending on what bundle you opt for, recent price cuts have made the PlayStation VR even more affordable. It may not be the top VR headset, but the PSVR is certainly making a strong case to users.
Read the full review: PlayStation VR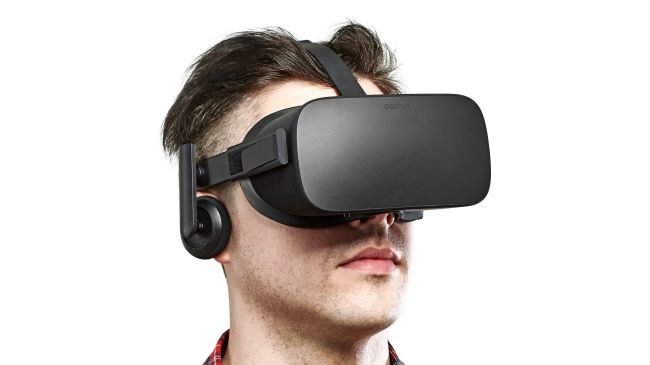 The current VR arms race is all thanks to one man: Oculus founder Palmer Luckey. As a teenager, Luckey collected VR tech and was fascinated with making his own headset in his garage. Numerous prototypes and a $2 billion Facebook buyout later, Oculus is still the biggest name in VR.
It's seen some decent upgrades over the years thanks to the inclusion of the Touch controllers (which we'd argue are slightly superior to the Vive's), and a couple of key price drops.
Yet, compared to the HTC Vive's room-scale technology, the Rift isn't quite as good. The reason is that while the Vive is designed to let you walk around in any direction, by default the Rift has you place its two sensors in front of you. This means that the tracking is more single-sided, and you can't let yourself get turned around, or else the sensors will lose track of you.
The experience is a bit different when you add a third sensor to the mix, but if you're comparing apples-to-apples, we still believe the Vive does room-scale a heck of a lot better.
That being said, by being cheaper than the Vive, the Oculus Rift offers a very compelling mid-range virtual reality option for those with less space to spare.
Read the full review: Oculus Rift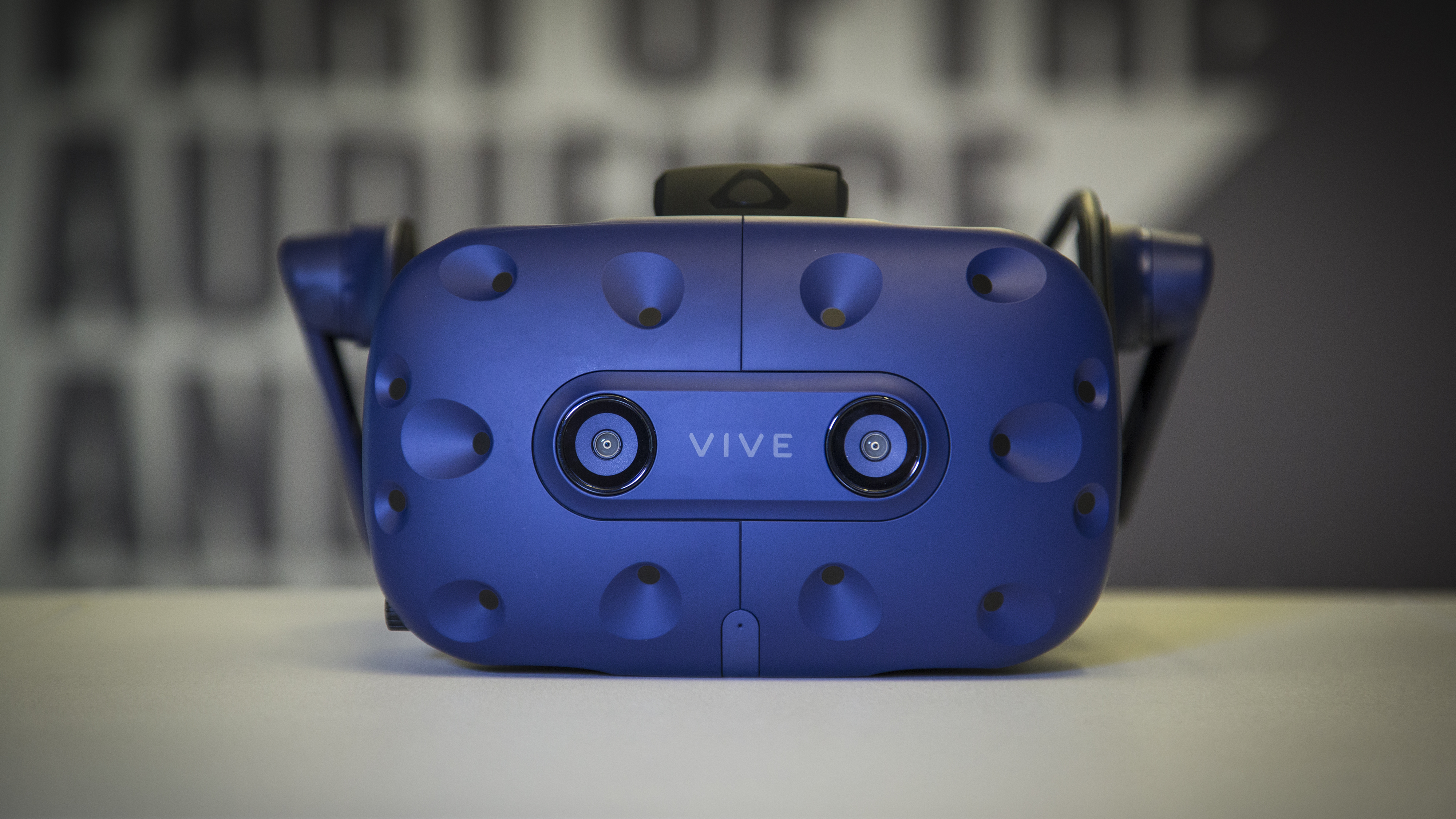 The newest high-end VR headset in town comes packing a lot of impressive specs. Take, for instance, the HTC Vive Pro resolution of 2880 x 1600, offering a 78% increase in dots per inch than the HTC Vive.
This means ultra-crisp visual fidelity that lets you experience textures and shadows in a way previously impossible in VR.
But the HTC Vive Pro perks don't end there. There's also the addition of built-in headphones and new nose guards that do a better job of blocking out light than the HTC Vive. All told, the HTC Vive Pro is a clear evolution in both design and tech on the older HTC Vive.
However, for all its shiny new specs, new navy blue color and a game library that's sure to grow, the HTC Vive Pro has some serious flaws.
The main one is obvious: it's expensive. It costs the same as the HTC Vive did at launch, and it doesn't come with any accessories in the box. That's right: you'll have to buy controllers and sensors separately, at least until a bundle is available later in 2018.
Setup is also a challenge with the Vive Pro because all of your firmware has to be as up-to-date as possible. Even then, you may run into some challenges, which could deter the average user from jumping into the Vive Pro experience.
Because of its price, its challenging setup and the fact that the still-excellent HTC Vive is now much less expensive, the HTC Vive Pro is likely best suited for VR enthusiasts and arcade owners. It's still an awesome headset, just one that's probably not for everyone.
Read the full review: HTC Vive Pro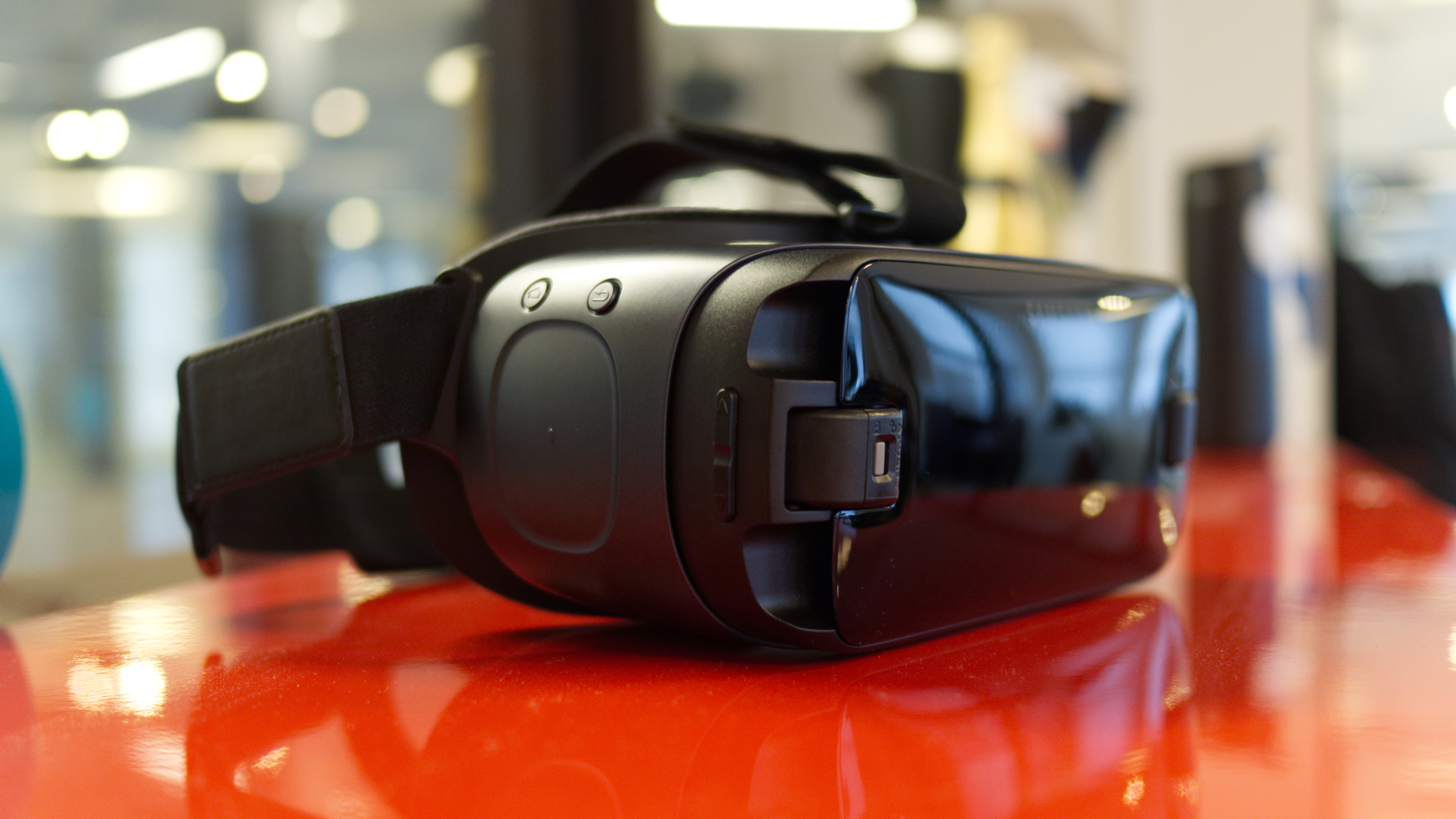 Samsung Gear VR has always been a respectable smartphone-powered VR headset, but now that it has a motion controller, it's taken things to the next level.
In addition to the new controller, the updated Gear VR is lighter and more streamlined than before, and features a USB-C connector that hooks directly to a Samsung Galaxy phone.
Compatible phones naturally include the Galaxy S8 and Galaxy S8 Plus, as well as the Galaxy S9 and Galaxy S9 Plus, if you have the latest Gear VR headset, that is.
The included motion controller has undertones of the HTC Vive controller design, with a touchpad and trigger button, which aren't bad things. It's with the controller that the Gear VR really takes off, allowing you to interact with the VR worlds in front of you in a way previously impossible without it.
Of course, being powered by a smartphone, the headset's performance is entirely dependent on the phone you've slotted in, though in our experience this isn't a problem considering the power behind Samsung's higher-end handsets. However, if you're using an older Galaxy phone, your experience could be noticeably different.
As Oculus prepares to launch the Oculus Go standalone headset, the question of where smartphone-powered devices like Gear VR fit only becomes more pertinent. But since the Oculus Go and Samsung Gear VR share an app and game library, you can expect support for the Gear VR to continue for quite some time.
Read the full review: Samsung Gear VR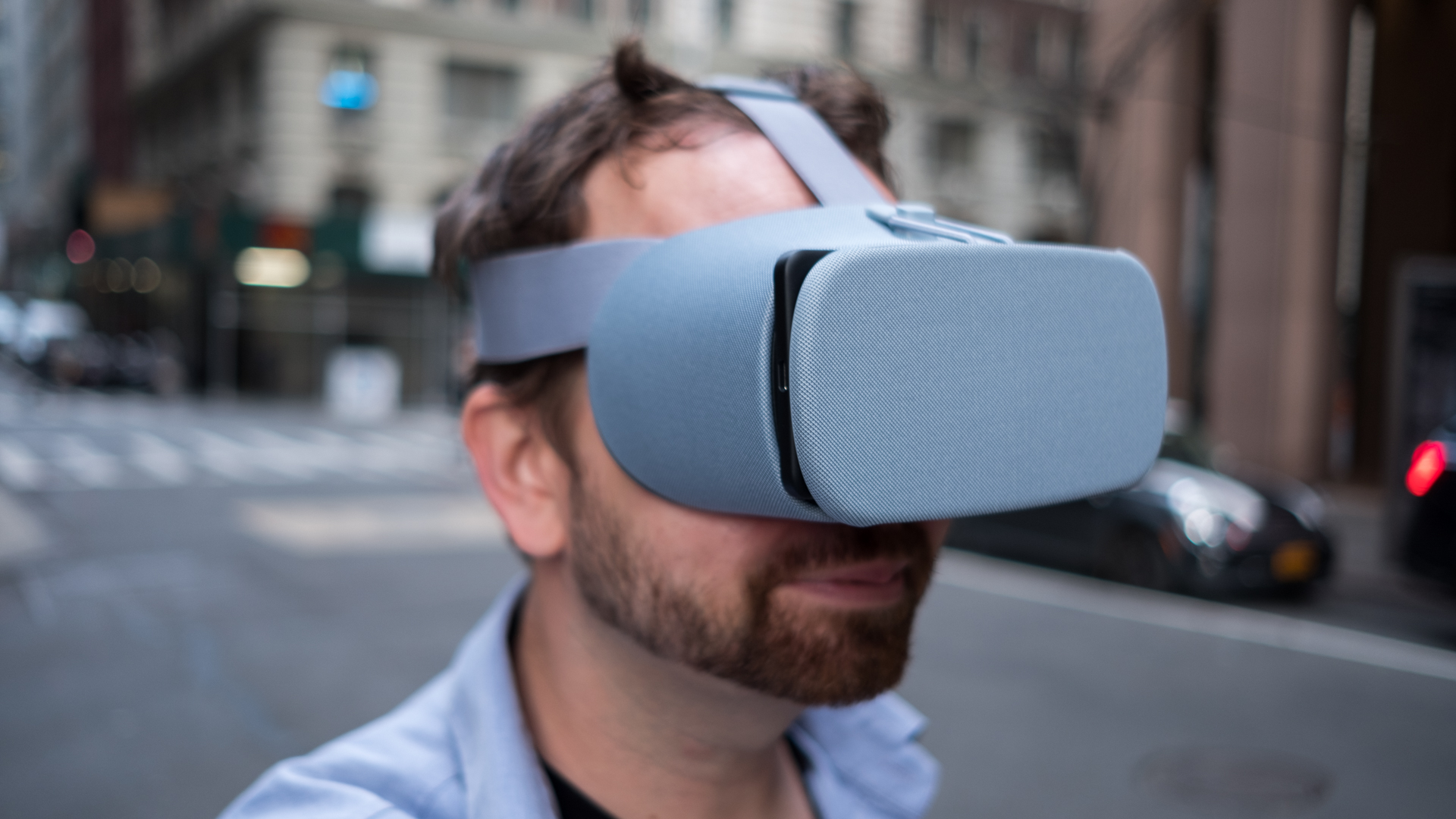 If you own an Android phone (that's not necessarily a Galaxy) and want to get into virtual reality without spending a fortune on a headset and PC set up, then consider the Google Daydream View (2017) a viable option.
What makes this headset compelling is its price; it's less than $100 / £100, and a recent discount has made it even cheaper, at least for the time being.
It's also an easy headset for just about anyone to use. Not only does it require little on your part aside from installing an app on your phone, but once you're inside the VR world, navigating to and fro is easy with the included controller.
You won't get the deeply immersive worlds of a higher-end, PC-powered VR headset with the Google Daydream View, but you will get a device that's made of a nice material, works with many of the best Android phones, and, did we mention how inexpensive it is?
The content on offer isn't very compelling – there's not a ton to draw you back for multiple play sessions – but it is varied and offers a little something for everyone.
This isn't the best VR headset on the market, by far, but it is an easy way to get into VR for Android phone owners. And that, really, could be all you need to know.
Read the full review: Google Daydream View (2017)
Source:: TechRadar Gaming Feed