Best Android phones in Australia: the top handsets to buy in 2019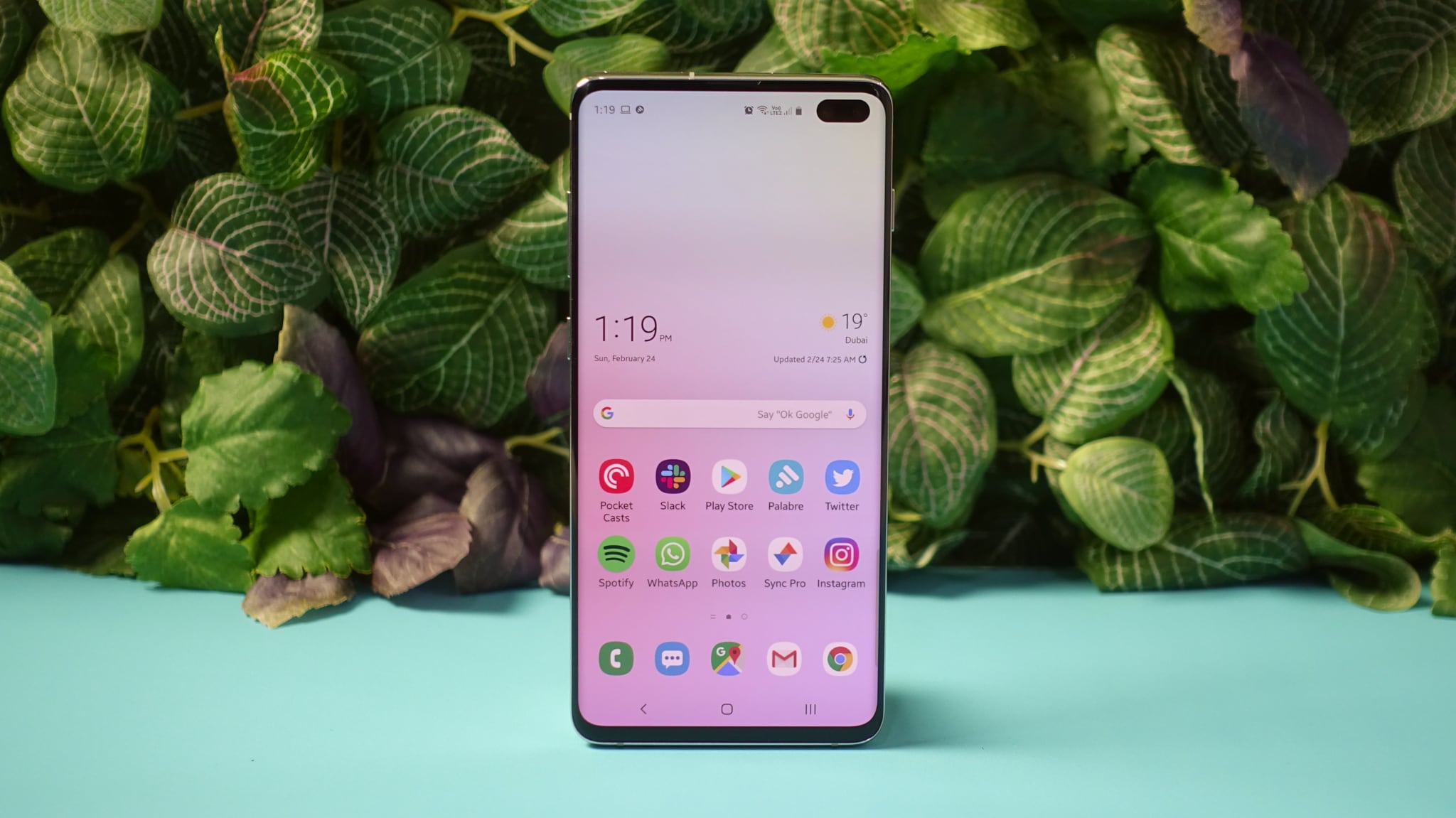 UPDATE: The Samsung Galaxy S10 Plus and Huawei P30 Pro have both been added to our list of the best Android phones in Australia! Read on to find out where they placed!
Apple may have kick-started the smartphone revolution when it launched its very first iPhone back in 2007, but it was Google's Android operating system that truly took it mainstream.
With an open platform and multiple manufacturers using the operating system, Android was always destined for greatness. Today, Android is easily the biggest OS in Australia.
With only a couple of exceptions, all the companies that were making mobile phones before iOS was launched now run Android.
Samsung, Sony, LG, HTC, Huawei, Google and Motorola all wave the Android flag proudly on their devices.
Still, the many variations in screen size, processing power, software features and design makes finding the best Android phone that suits your needs extremely tough.
To help find the Android handset that's right for you, we've rounded up the best phones out there running that operating system, rating each one on hardware performance, OS upgrade potential and, of course, how shiny and nice they are to have and boast about to work colleagues.
So here they are – the best Android phones money can buy in 2019 – for many, many different reasons.
Samsung's Galaxy S range has pretty much reached the pinnacle of traditional smartphone design with the Galaxy S10 Plus, sporting the world's best display, advanced ultrasonic security, reverse wireless charging, exceptional performance and its most advanced camera setup to date.
Screen: With its 93.1% screen-to-body ratio, the S10 Plus' pill-shaped pinhole camera is far less obtrusive than a traditional notch, and with One UI's dark mode switched on, it practically disappears from the screen the majority of the time.
As we've come to expect from each new Galaxy phone, the S10 Plus' QHD+ Super AMOLED screen is brighter and more vibrant than ever before (it's the first Samsung phone to support HDR10+), though its biggest update comes in the form of an in-display ultrasonic fingerprint sensor, which uses sound waves to create a 3D scan of your prints for more accurate and secure unlocks.
Design: This year's model has seen an upgrade from aluminium to stainless steel, making the Galaxy S10 Plus feel stronger and sturdier as a result. We thankfully still get a 3.5mm headphone jack and microSD card slot on this year, though Samsung's still sticking with its dedicated Bixby button, and the power button is now placed awkwardly high on the device's right side, which takes some getting used to.
Performance: The S10 Plus' battery takes a huge leap from the 3,500mAh battery featured in last year's S9 Plus, sporting a massive 4,100mAh battery that should keep the phone juiced all day.
General performance is also excellent, thanks to the new Exynos 9820 chipset and 8GB of RAM featured in the base model S10 Plus. It offers snappy app-switching, effortless multi-tasking and excellent gaming performance at all times, and is terrific for playing intensive games like Fortnite on the fly.
Camera: Samsung has delivered a major upgrade to its photographic capability this year, with its primary camera offering a triple lens setup – that's a 12MP regular lens, a 12MP optically-zoomed telephoto lens, and an eye-opening 16MP ultra-wide lens.
As for selfies, Samsung's latest flagship sports a dual lens camera setup, with a 10MP primary camera and an 8MP depth sensor, allowing users to take bokeh self-portraits.
Mini verdict: Without mincing words, Samsung's Galaxy S10 Plus is the best phone of 2019 so far. It's got an amazing display, a terrific OS, great battery life and performance and unrivalled design.
Read the full review: Samsung Galaxy S10 Plus
See the best Samsung Galaxy S10 Plus telco plans
See the best Samsung Galaxy S10 Plus outright deals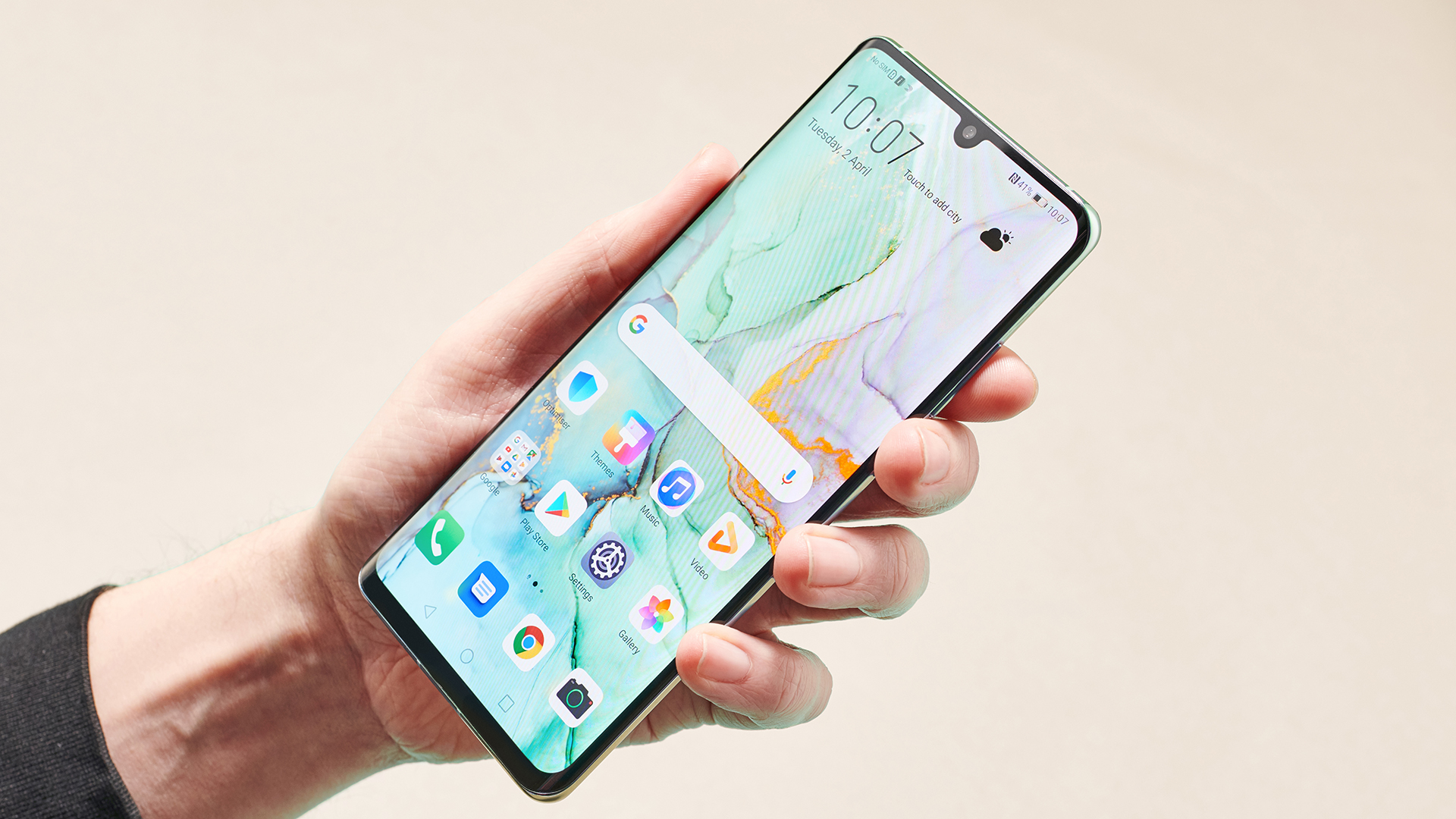 If there's one phone that comes close to stealing the top spot from Samsung's Galaxy S10 Plus, it's the Huawei P30 Pro. It's the Chinese phone maker's greatest phone to date, with a premium build, excellent specs and the best photographic capability of any phone in the world right now.
Screen: The P30 Pro sports a vibrant Super AMOLED display which delivers crisp images and stunning colours. Admittedly, Huawei's new flagship only sports a FHD+ display – last year's Mate 20 Pro featured a QHD+ display and you can tell the difference when the two phones are side by side. Under the display, Huawei has placed a speedy fingerprint scanner that's seemingly identical to the one featured on the aforementioned Mate 20 Pro.
Design: As one of the only non-Galaxy handsets employing curved glass on its display, Huawei's P30 Pro certainly feels high-end and luxurious in the hand. The back of the phone also features curved glass, which allows for the device's power-sharing functionality.
Lamentably, the P30 Pro lacks a 3.5mm headphone jack, but we're happy that Huawei has included support for expandable storage via the device's SIM tray, even if that means having to use the obscure NM (Namo Memory) card format.
Performance: With its huge 4,200mAh battery, you're guaranteed to get at least a full day of usage from a full charge – maybe even two if you don't go crazy. It's also handy for sharing power via the P30 Pro's reverse wireless charging feature.
Thanks to Huawei's latest Kirin 980 chipset and 8GB of RAM, g the handset is capable of handling any app you throw at it with ease, offering swift load times and great gaming performance.
Camera: As we've come to expect from Huawei's Leica-branded cameras, the P30 Pro is capable of incredible photos. In fact, it wouldn't be an exaggeration to say that the P30 Pro's triple lens setup is mind-blowing.
You have a 40MP main sensor which can take fantastic photos at full resolution (without any zoom) — handy for those who are into professional-grade editing or making high-quality prints. Of course, photos are captured at 10MP by default, and look stellar at that resolution, too.
The standout camera feature, however, is 5x optical zoom functionality, which uses a periscope-style mirror array to prevent image degradation from zoomed-in shots. Of course, you can also zoom in by a staggering 50x using the camera's digital zoom, though expect these shots to be quite blurry.
Mini verdict: It may be let down slightly by a couple of its design choices, but the P30 Pro is one of the best Android phones currently available.
Read the full review: Huawei P30 Pro
See the best Huawei P30 Pro telco plans
See the best Huawei P30 Pro outright deals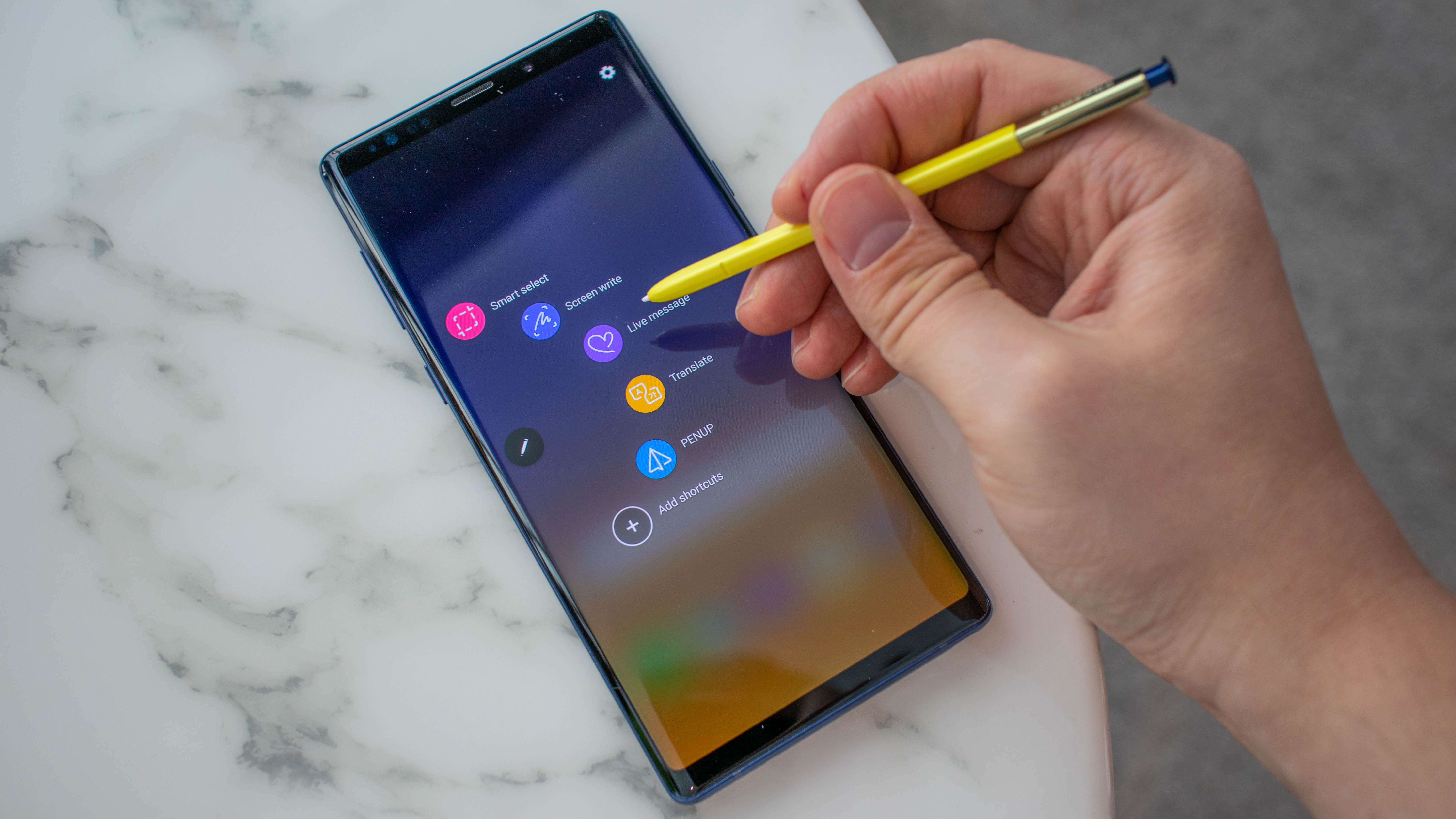 At first glance (let's be honest, after a few glances), you might not be able to tell the Galaxy Note 9 apart from last year's Note 8 — both phones are big, bold and beautiful. Taking a closer look will reveal some minor design differences, but when you actually use, you'll likely notice the important internal changes that have allowed the Note brand to reach its full potential in 2018.
Screen & Design: Sporting a record breaking display, the Note 9's Super AMOLED QHD+ display is breathtaking. It's the brightest, most colourful screen we've seen in a smartphone to date, with deep blacks that contrast spectacularly against those aforementioned highlights.
Thankfully, Samsung has stuck to its gun in terms of the Note 9's design, resisting industry pressure that has seen countless other Android manufacturers bring notch cutouts to their displays while removing features customers actually want, such as headphone jacks and microSD slots. In keeping its design traditional, Samsung now seems like the maverick among its competitors — something many people will likely gravitate towards.
Performance: Thanks to its huge 4,000mAh battery (almost 20% larger than the Note 8's battery) Samsung has addressed the biggest drawback from last year's model. A beast like this needs all the battery it can get, and in that sense, the Note 9 truly delivers.
What makes the Note 9 such a beast? Well, its Samsung-built Exynos 9810 chipset and 6GB of RAM combo keeps performance snappy at all times, regardless of what you're doing. On top of this, the Note 9's 512GB model is comes with an extra 2GB of RAM (bringing the total to 8GB), which is ideal for running Fortnite and using DeX mode to run the phone in desktop mode (which you can now do without the expensive dock).
Camera: Nearly identical to the Galaxy S9 Plus' dual camera setup, the Note 9 is capable of shooting super slow motion video (up to 960fps at 720p resolution) and also features that phone's impressive variable aperture functionality, which allows the Note 9's iris to automatically adjust itself based on available light.
That said, the Note 9 has seen a few software tweaks, such as flaw detection, which will prompt you to take another photo if your original one was blurry, or if your subject had their eyes closed. The camera app will also automatically adjust its settings depending on what you're taking a photo of.
The biggest new camera-based feature, however, can be attributed to the Note 9's new S Pen, which now boasts Bluetooth functionality, allowing you to use the stylus as a long-range self-timer.
Mini verdict: Though most of the Samsung Galaxy Note 9's improvements are internal, each one has been made to give users the best smartphone experience possible.
Read the full review: Samsung Galaxy Note 9
See the best Samsung Galaxy Note 9 telco plans
See the best Samsung Galaxy Note 9 outright deals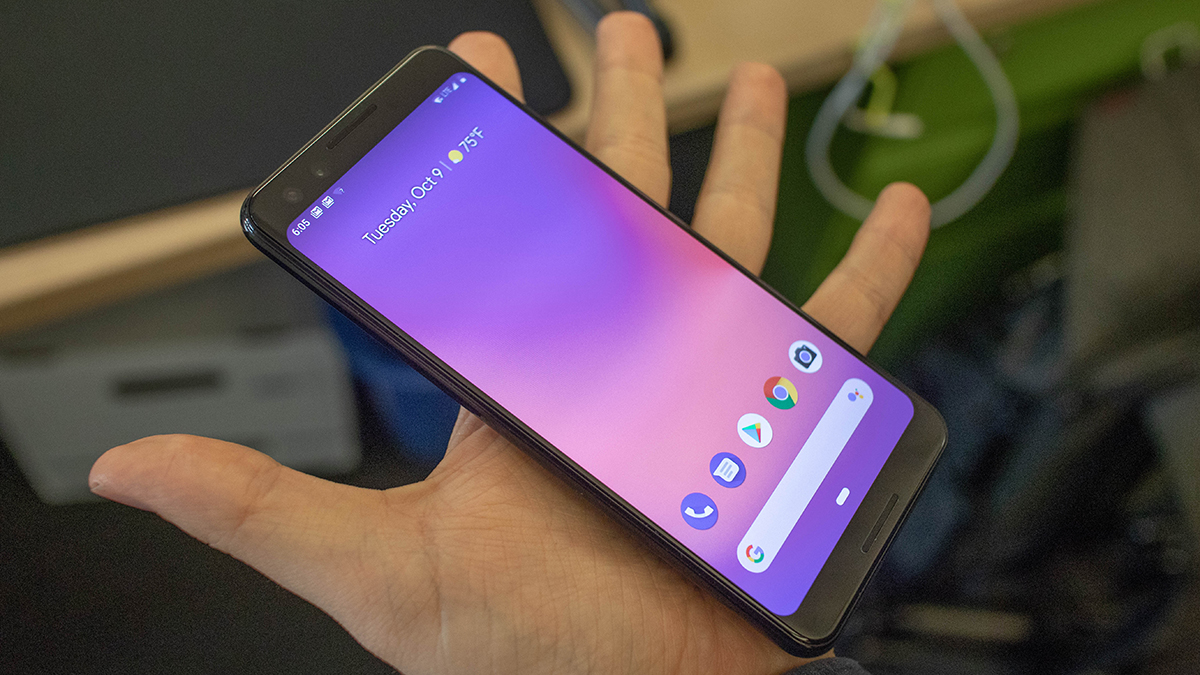 The Google Pixel 3 may be smaller than the Pixel 3 XL, which has a larger screen (with a huge notch), but it's got the same specs and and excellent camera which many consider to be one of the best on any phone.
If you're looking for a top-end handset that can be comfortably used with one hand, you can't go wrong with the Google Pixel 3.
Screen & Design: At 5.5 inches, the Google Pixel 3's display is far from what you'd call small, but it is a lot smaller than many of the phones that appear on this list. Admittedly, Its full HD resolution isn't quite as sharp as the Pixel 3 XL's QHD panel, but it still offers stunning colours and terrific contrast.
We also love the Pixel 3 has opted not to include a notch, which looks large and ugly on the XL version. That said, these bezels are quite large, though thankfully smaller than the ones featured on the Pixel 2.
Camera: You get the same camera here as you do on the Pixel 3 XL, and that's great news as it's one of the best cameras of any phone. It's easy to use (only one camera lens) and produces excellent shots with very little effort.
Performance: The Google Pixel 3 battery life isn't quite as long-lasting as that of its big brother, though It should give you a full day of use without any issues.
As for the the Pixel 3's performance, the inclusion of a stock Android OS means smoother, snappier usage and speedy multi-tasking with no bloatware to slow things down.
Mini verdict: If you're sick of large phones and want a compact that takes incredible photos, it's hard to go past the Google Pixel 3.
Read the full review: Google Pixel 3
See the best Google Pixel 3 telco plans
See the best Google Pixel 3 outright deals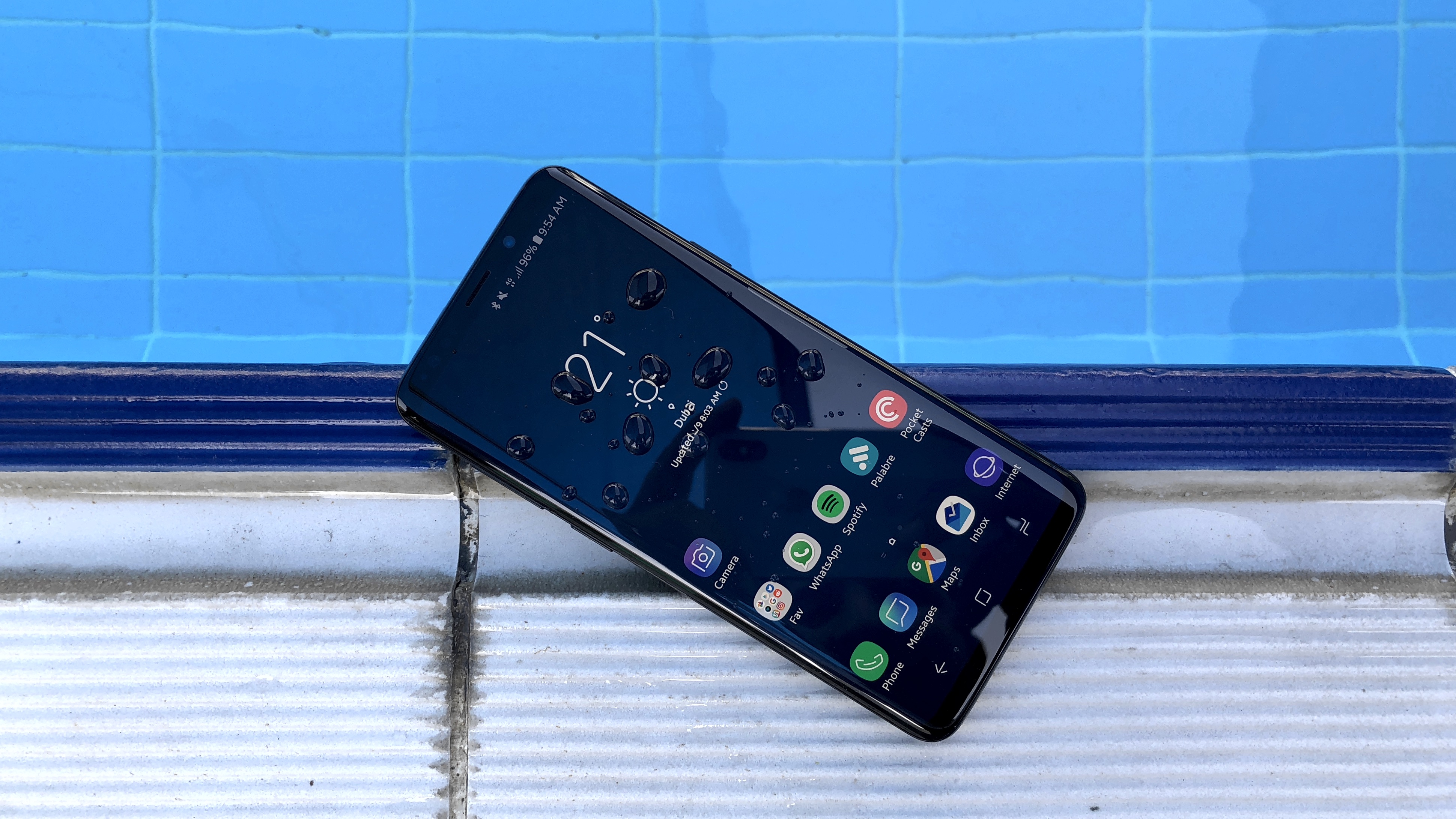 The Samsung Galaxy S8 Plus was one the best flagship phones of all time, though it did have some quirks. Thankfully, with its new Galaxy S9 and S9 Plus, Samsung has made an effort to address almost every issue and niggle exhibited by the S8 range. You won't find an awkwardly-placed fingerprint sensor here, and the S8 range's underwhelming built-in speakers have been replaced with awesome Dolby Atmos-boosted stereo ones. That annoying Bixby button remains, however.
At first glance, the S9 Plus is easy to mistake for the S8 Plus when looking at it from the front, though there has been a slight design change here. The Galaxy S9 Plus has a height difference of 1.4mm, the benefit of which can be found in the device's smaller bottom bezel. Flip it over, however, and the differences become more apparent. The phone's new vertical camera and fingerprint sensor layout instantly feels more natural than last year's model, and is much easier to reach now.
While not quite as big as the Galaxy Note 9, the Samsung Galaxy S9 Plus is still a large phone that approaches phablet territory.
Screen: The S9 Plus has what many believe to be the very best display on any handset right now, with its Super AMOLED 6.2-inch screen offering incredibly rich HDR-enhanced colours, inky blacks, and what is essentially the greatest viewing experience you can have on a mobile phone right now.
Performance: The battery life on the S9 Plus is better than the smaller version, thanks to the 3500mAh battery. That said, other phones on this list are capable of lasting much longer without a recharge.
Having listened to music through the S9 Plus' new speaker mouth (so long, speaker grill) we can confirm that a drastic improvement in audio performance has taken place. Sound quality is much fuller than before, exhibiting some added depth and bass. Sure, it won't inspire you to throw away your Bluetooth speaker, but the difference in audio quality is significant – especially when you take into account the inclusion of Dolby Atmos support.
And, thanks to its powerful new Exynos 9810 chipset (Snapdragon 845 in some territories), the Galaxy S9 Plus offers unrivalled performance when it comes to the Australian smartphone market.
Camera: The Galaxy S9 Plus' biggest selling point is undoubtedly its revamped dual camera setup (something not found on the standard S9), which is now capable of taking super slow motion video (up to 960fps at 720p resolution) and has variable aperture capabilities, which allows the phone to automatically switch between f/1.5 (for very low-light photography) and f/2.4 (super bright and vibrant photography). Depending in the light conditions, you can even see the camera's tiny shutter opening and closing.
Mini verdict: There are a number of factors that put the Samsung Galaxy S9 Plus so high on our list, from its incredible QHD+ 18:9.5 AMOLED display, to its powerful new Exynos 9810 chipset. However, it's the way that Samsung has truly listened to its customers and created a phone specifically for them that makes the Galaxy S9 Plus so great.
Read the full review: Samsung Galaxy S9 Plus
See the best Samsung Galaxy S9 Plus telco plans
See the best Samsung Galaxy S9 Plus outright deals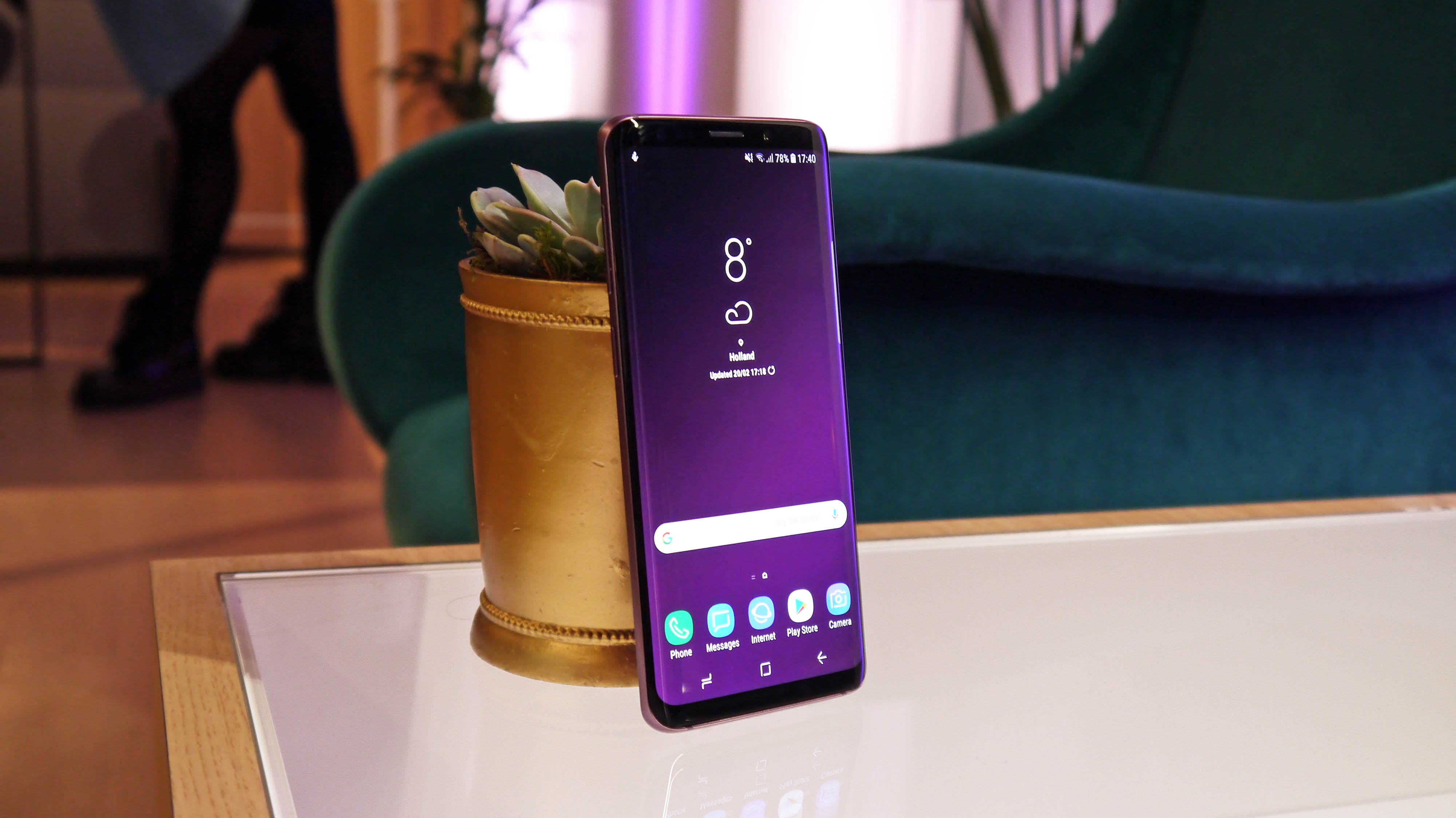 There's no denying that the Samsung Galaxy S9 isn't quite as exceptional as its bigger brother, the S9 Plus. It's got just one camera sensor on its rear, less RAM and its battery is quite a bit smaller – but most people will be more comfortable holding a phone of this size in their hand, and it still packs the power and top screen quality of its esteemed sibling.
Screen: A QHD 5.8-inch screen takes up most of the front of the phone, and while it hasn't changed much in terms of design compared to last year's model, it's still a stunning device to behold. The S9's display is even better than last year's already stellar version, with brighter, more colourful images. The Super AMOLED tech is once again showing itself to be the best thing to look at on a smartphone, capable of showing off the best in movies and TV shows.
Performance: Admittedly, battery life is a little disappointing for a top-end smartphone, meaning you'll need to think about a top-up during the day if you're the type of user that expects heavy usage, such as video watching and game playing. Thankfully, this is helped by stellar wireless and fast charging capabilities that allow you to juice your phone up quickly if necessary.
Camera: While it only has a single sensor on the rear of the Galaxy S9 – the Galaxy S9 Plus has a dual camera array – it's still capable of taking stunning photos with exceptional low light performance and equally good noise performance. Though its larger sibling has the superior camera, you won't miss out on much with the Galaxy S9.
Mini verdict: The Galaxy S9 is a smartphone with all the top-end features you'd want, with plenty more on top. It's not quite at the level of the S9 Plus, and the iPhone X outranks it in some ways, but for a more palm-friendly Android phone, it's utterly tops.
Read the full review: Samsung Galaxy S9
See the best Samsung Galaxy S9 telco plans
See the best Samsung Galaxy S9 outright deals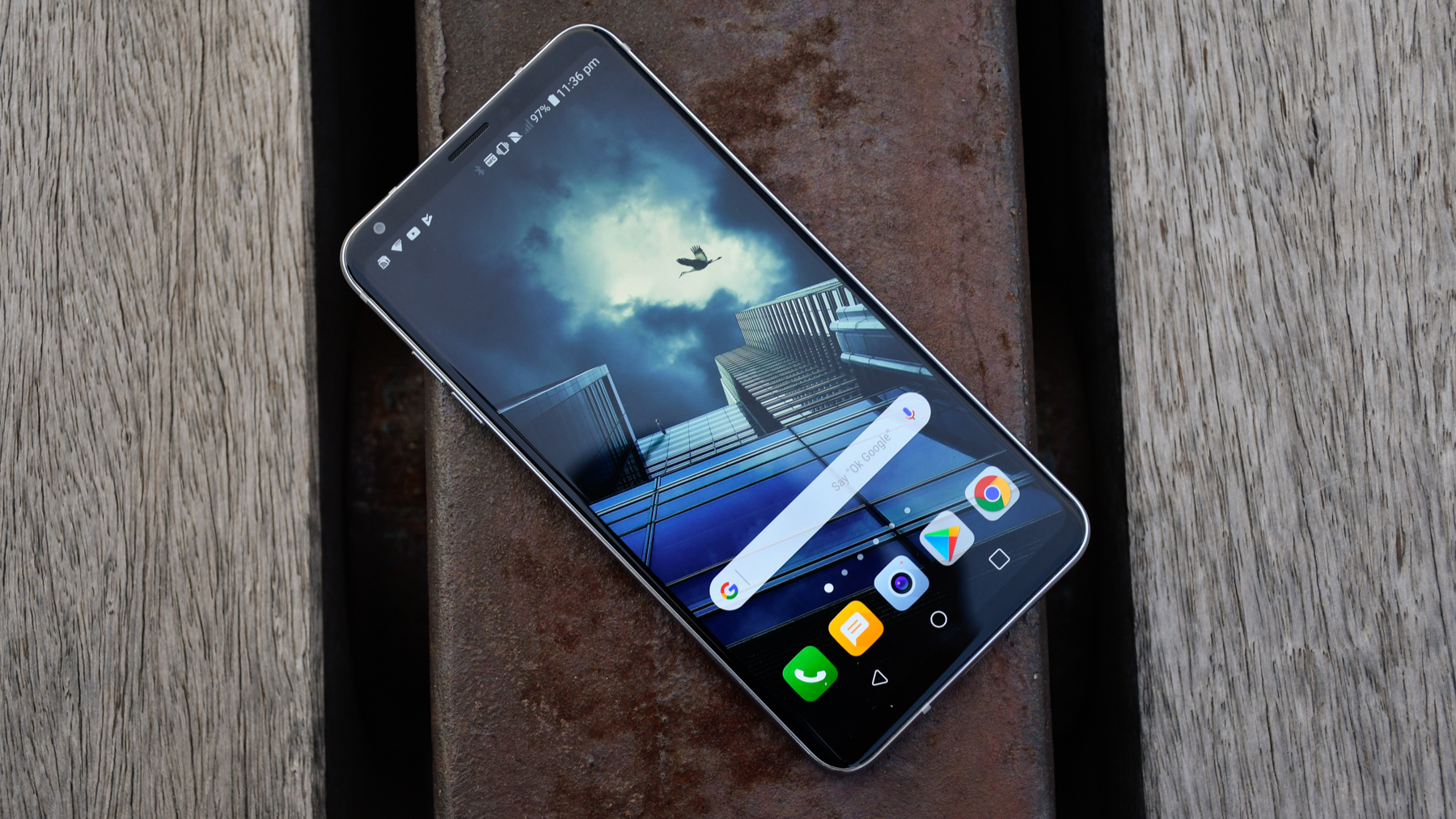 The LG V30 Plus is a slightly updated version of the original LG V30, only with improved Quad DAC audio, larger storage capacity and other features. In terms of look and feel, though, it's exactly the same, which is good, because only the LG V30 Plus is available in Australia now.
Screen: The V30 Plus sports the fashionable 18:9 aspect ratio complete with an attractive 6-inch OLED display with 2880 x 1440 (QHD) resolution. While there are still bezels at the ends, the phone looks and feels superb.
Performance: As the first LG phone to boast a Snapdragon 835 chipset, the LG V30 Plus finds itself in the company of such smartphone titans as the Google Pixel and Samsung Galaxy Note 8 when it comes to performance.
If you love your music, this is the phone to get, with its Quad DAC (digital to analog converter) audio capability offering exceptional sound quality. This phone is more than capable of playing your Hi-Res FLAC audio files and will even make your regular MP3s sound better.
Camera: On the camera side of things, it's got a dual camera setup that allows you to take wide-angle shots, and new Point Focus and Cine Video colour grading tools let you make the most of your photography and video recording. An exceptional phone all round.
Mini verdict: In our opinion, the LG V30 Plus is an improvement over the already impressive LG G6, which was also released in 2017. It's got a beautiful design, powerful internals (it's the first LG phone to use a Snapdragon 835 chipset), a terrific camera and a gorgeous 18:9 QHD+ AMOLED display.
Read the full review: LG V30
See the best LG V30 Plus outright deals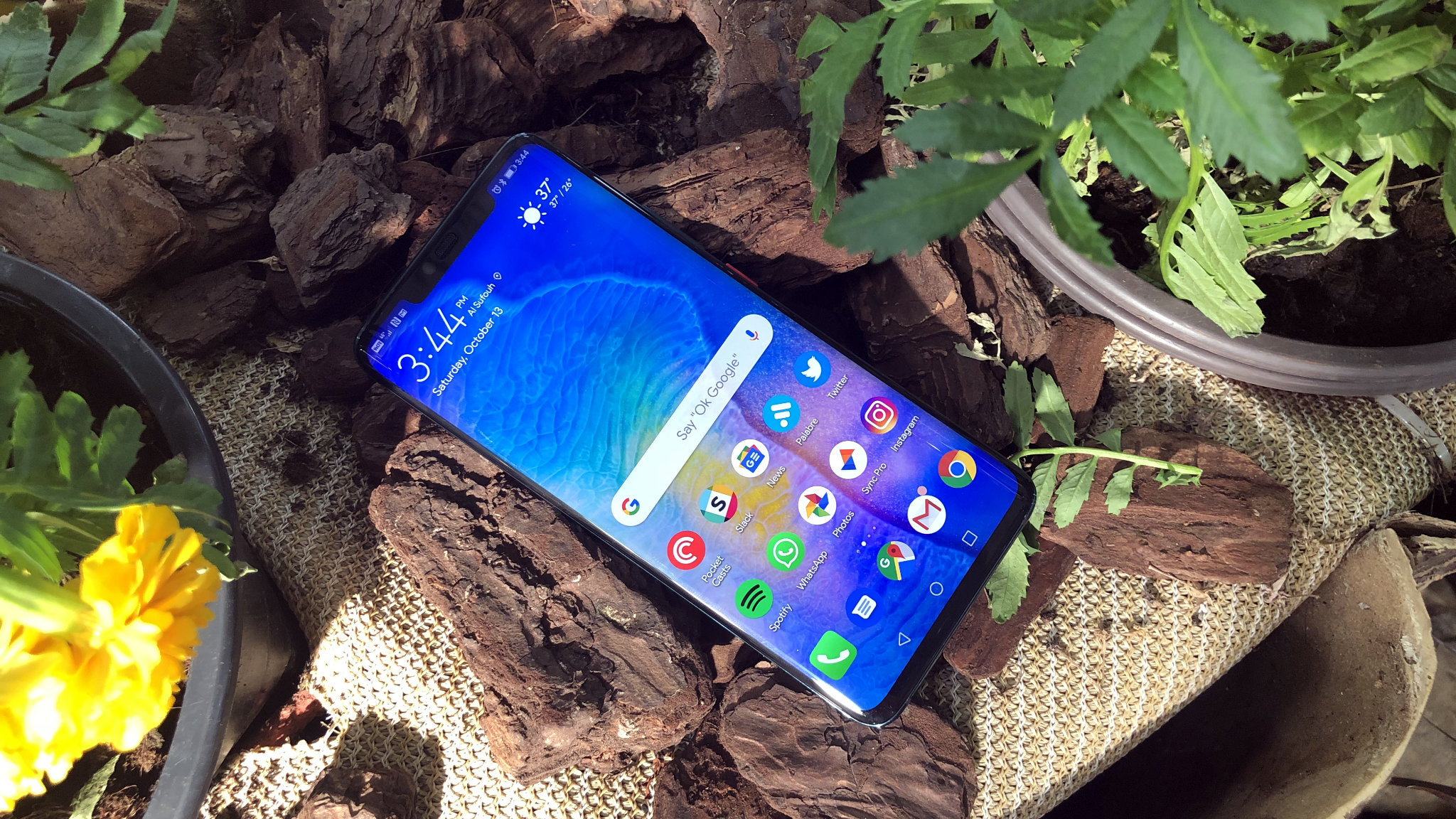 The Huawei Mate 20 Pro is still one of the best phones from the Chinese firm to date, offering up a heady mix of design, power and performance with a few party pieces thrown in too.
It builds on the P20 and P20 Pro, offering up even more screen, enhanced triple rear cameras and an in-display fingerprint scanner.
Screen: The Mate 20 Pro packs a huge 6.39-inch display giving you a huge amount of space for gaming and movies, and its QHD resolution and HDR10 support ensures everything looks great. There is a wide notch at the top of the display though.
Battery life: You'll get great battery life from the Mate 20 Pro, and we regularly achieved a day and a half of usage from a single charge during our review time with the handset.
Camera: The Mate 20 Pro comes with three cameras on the rear, nabbing the excellent 40MP wide-angle and 8MP telephoto lenses from the P20 Pro – but the third sensor is new. It's an ultra-wide 16MP snapper allowing you to cram even more of your surroundings into each shot.
Mini verdict: The Mate 20 Pro is a full-featured phone for a full-featured price – it even has a few tricks you won't see elsewhere, and more powerful specs than most of its competitors.
Huawei Mate 20 Pro review
The best Huawei Mate 20 Pro outright deals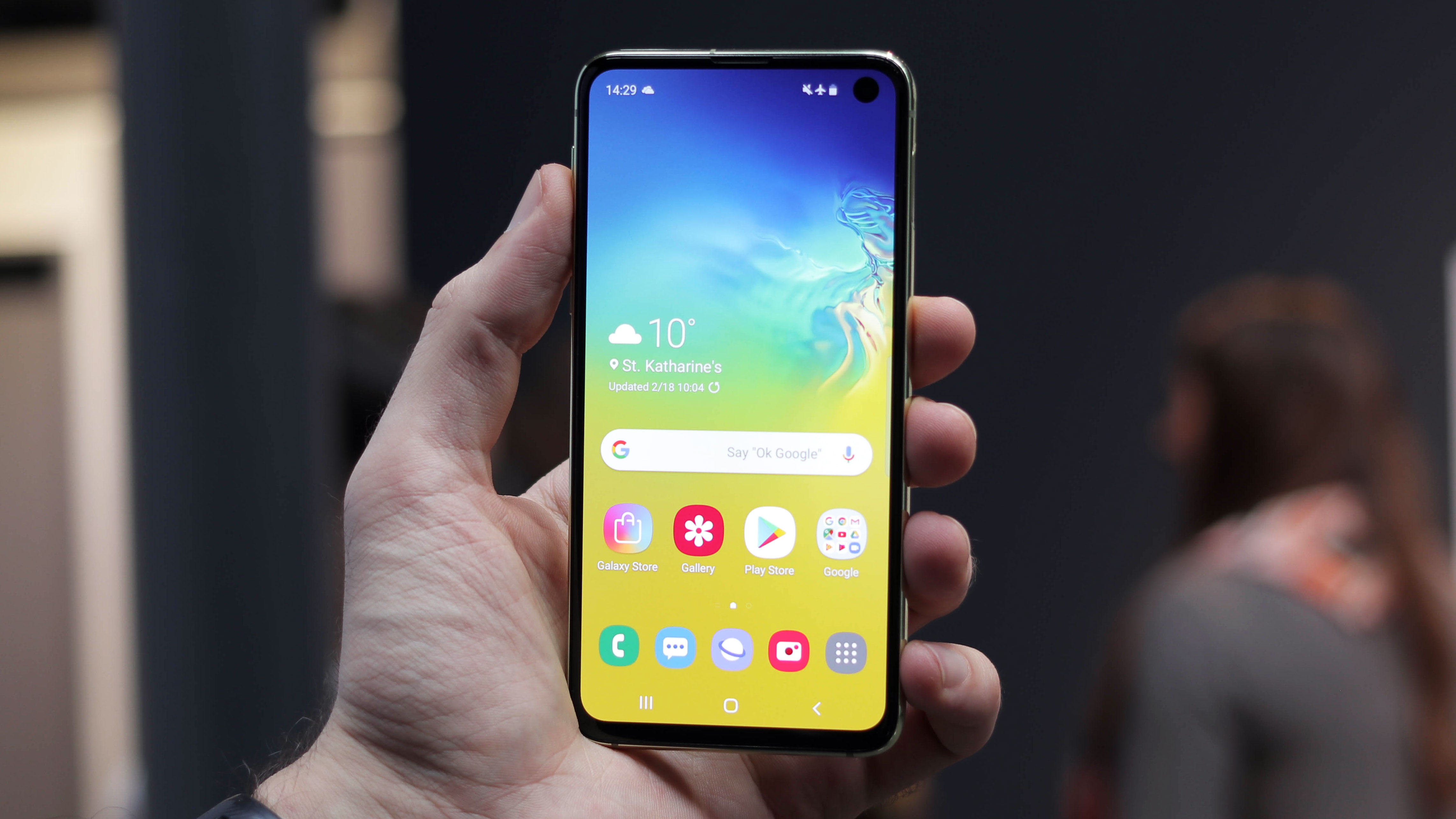 Like the look of the new S10 and S10 Plus, but not a fan of their lofty price tags? Well fear not, as Samsung has catered for you with the Galaxy S10e.
The Galaxy S10e has many of the flagship features of its pricier siblings, while offering a more palm-friendly size and a few compromises to help keep the cost down.
Screen: You don't get a QHD resolution here, instead you'll have to accept a Full HD+ 5.8-inch screen – but the Super AMOLED display provides plenty of colour and pop.
Battery life: We found battery life lasted a day on a single charge – which is what we've come to expect from phones – plus its wireless charging and Wireless PowerShare making topping it up, and you other devices, even easier.
Camera: The dual camera setup on the S10e isn't quite as good as the triple cameras on the S10 and S10 Plus, but they're still highly capable snappers producing quality photos with ease.
Mini verdict: It's hard not to recommend the S10e to anyone who prefers a smaller phone. Size queens, look elsewhere – this smartphone is for folks who want to text and browse apps one-handed without compromising performance.
Samsung Galaxy S10e review
The best Samsung Galaxy S10e outright deals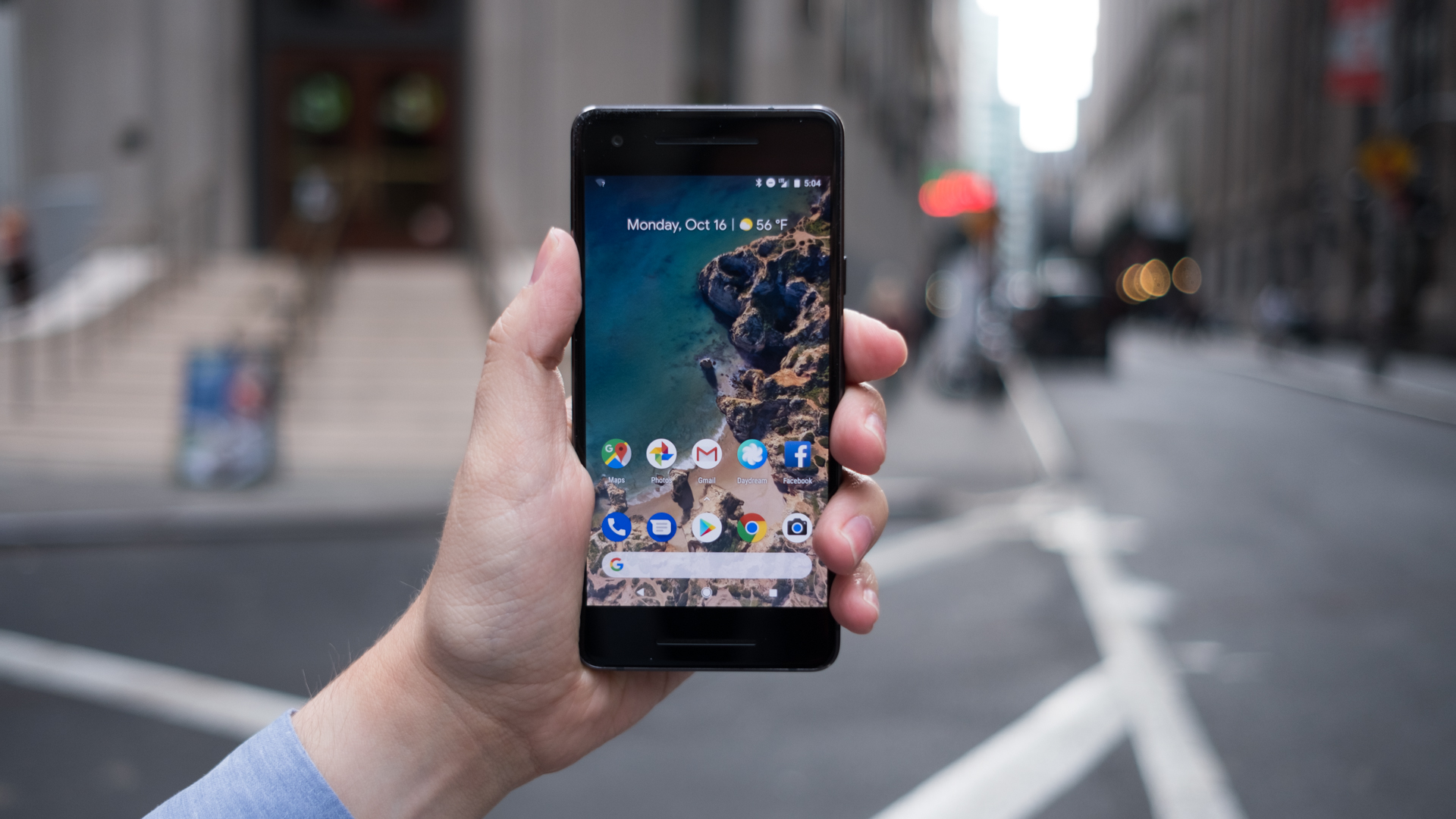 Along with its XL-lent sibling, the Google Pixel 2 boasts what many consider to be the best smartphone camera of 2017, and that's not all when it comes to the various ways in which the Pixel 2 improves upon the original. We even like the two-tone effect on the phone's rear this time around
Screen: Admittedly, we're not crazy about its its bezel-heavy design, which looks terribly outdated in 2018, but the Pixel 2 does feel more stylish than its predecessor.
Its display, which surprisingly has a maximum resolution of just 1080p, is admirable, if not exceptional. Photos look excellent on it, so long as you pick the right colour setting to suit your taste. It also features Always-On functionality, so you can check the time, date and your notifications at a glance.
Camera: But let's get back to the camera, which despite being a single-lens setup, has received top ratings from the renowned camera benchmarking team at DxOMark, outperforming most of its dual camera peers with ease.
Performance: Though we still don't know why the Pixel 2 still lacks a microSD slot or why its display is only 1080p, we're very pleased that Google has delivered a handset with an IP67 rating for water and dust resistance.
Like the Google Pixel 2 XL, the smaller Pixel 2 runs fast and snappy – a benefit of the handset sporting a Snapdragon 835 chipset and running a stock version of Android. While its 4GB RAM is more than capable right now, it's hard to know how the phone will perform in a couple of years.
Mini verdict: If you can overlook its large bezels, missing headphone jack and lack of expandable memory, the Google Pixel 2 is still one of the most powerful handsets on the market.
Read the full review: Google Pixel 2
See the best Google Pixel 2 telco plans
See the best Google Pixel 2 outright deals
You're at the end of the guide, and that means no more phones to recommend. But that doesn't mean we can't still help you – we've listed all the phones here in one easy comparison table (with a few extras), so you can decide between them all at once.
If you want to get all the info, then use the tool below or check out our full mobile phone deals page.
Source:: TechRadar Portable Devices